Saint Lucia Kings is a popular and professional cricket team that participates in the Caribbean Premier League. The event is set to take off with the matches this season for Saint Lucia Kings 2022. The nickname of the team is Zouks on Fire where it is established in 2013.
The captain of the team is TBD and the coach is Daren Sammy. The owner of the club is Mohit Burman, Karan Paul, Ness Wadia, and Preity Zinta. Check out more details about the Saint Lucia Kings 2022 squads, the player's list announced by CPL, and more information here on this page.
Saint Lucia Kings 2022 Squads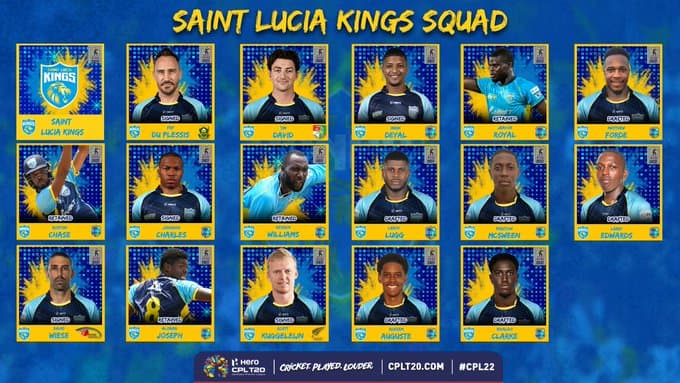 The entire team list is yet to be out where the current squads are announced. The team has a batsman and all-rounder. The bowlers include spin-bowlers and pace bowlers.
Johnson Charles: Batsman
Roston Chase: All-Rounder
Javor Royal: spin-bowlers
Mark Deyal: spin-bowlers
Kesrick Williams: pace bowlers
Alzarri Joseph: Pace Bowlers
Saint Lucia Kings Administration
The ownership of the team is with Ness Wadia, Preity Zinta, Karan Paul, and Mohit Burman. The manager for the team is Rawl Lewis and the head coach is Daren Sammy.
Owner: Mohit Burman, Karan Paul, Preity Zinta, Ness Wadia
Team Manager: Rawl Lewis
Head Coach: Daren Sammy
Saint Lucia Kings Stats
Andre Fletcher:
Matches: 89
Innings: 88
Runs: 2299
Average: 28.73
Johnson Charles:
Matches: 40
Innings: 40
Runs: 1037
Average: 27.28
Daren Sammy:
Matches: 74
Innings: 64
Runs: 898
Average: 19.10
Rahkeem Cornwall
Matches: 40
Innings: 39
Runs: 776
Average: 21.55
Roston Chase:
Matches: 22
Innings: 20
Runs: 628
Average: 44.85
Saint Lucia Kings Season Standings
The team has been to the League Stage a total of six times since the season of the CPL. They made it to the eliminator in 2016 for the first time. The teams turn out to be Runners-
2013: 6th out of 6: League Stage
2014: 5th out of 6: League Stage
2015: 5th out of 6: League Stage
2016: 3rd out of 6: Eliminator
2017: 6th out of 6: League Stage
2018: 5th out of 6: League Stage
2019: 5th out of 6: League Stage
2020: 3rd out of 6: Runners-Up
2021: 4th out of 6: Runners-Up