Kohli to Shake Hands and Patting Back Babar Azam: Welcoming Justure From Virat Kohli During the Practice Session
After the T20 World Cup 2021, India-Pakistan is going to play a match on August 28 for the first time. Both the squad have reached Dubai to participate in the Asia Cup. On Wednesday. Indian squad also did the first practice session.
During this, Indian legend former Team India captain Virat Kohli met Pakistan captain Babar Azam. Virat shook hands with Babur Azam and encouraged him by turning his back.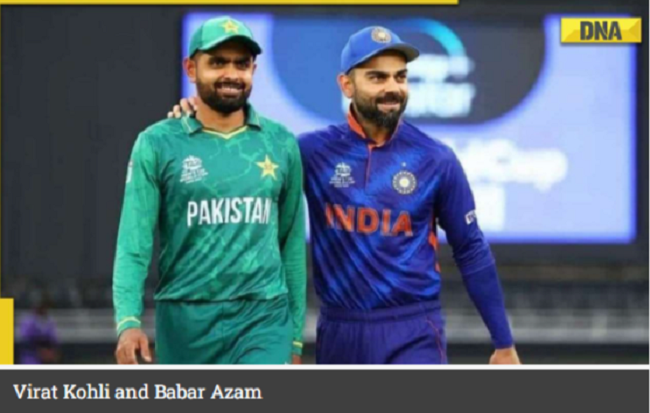 BCCI Shared the Virat- Babar Video
BCCI itself shared its video on social media. Apart from the formal captain, other players including Hardik Pandya, Yuzvendra Chahal, Suryakumar Yadav, Ravichandran Ashwin, Dinesh Karthik, and Arshdeep Singh were also seen in the video.
Yuzvendar Chahal and Hardik Pandya met the players of Afghanistan. Babar Azam is currently emerging as one of the top batsmen in the world. At the same time, Virat Kohli is currently struggling with his form.
Earlier Babar had encouraged Kohli
During the tour of England, when Indian formal captain was constantly flopping with the bat. Then Pakistani captain Babar Azam boosted the morale of Virat Kohli. Azam tagged Kohli by sharing a post on social media.
In this post, he had written- 'This time will also pass, keep courage.' This post of Babar Azam was well-liked. Virat Kohli also replied to Babar on this post. Kohli wrote, 'Thank you, keep moving forward and keep shining. Best wishes to you.
Asia Cup is Starting on August 27
The Asia Cup T20 championship 2022 will start on August 27. The clash between India and Pakistan is likely to take place on August 28. India is the current champion of the tournament and will come out as the defending champion. In the first part of the Qualifiers will play.
India will clash with Pakistan on August 28 on their first match
Indian team has got a chance to bounce back after the crushing defeat against Pakistan in the first match of the T20 World Cup 2021. The Indian men in blue will face Pakistan in the Asia Cup on 28 August. This year the Asia Cup is scheduled in UAE.